Account & Plans
Auth Token
Your Auth Token is obfuscated on the Account page, but will become visible when clicked on.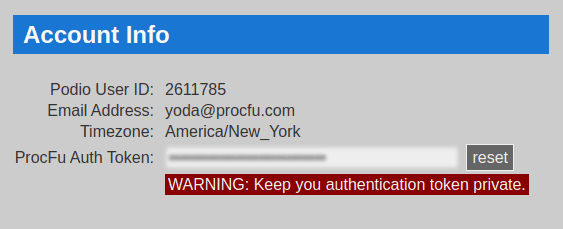 You will need this token when calling scripts from WorkFlow Automation or other external services.
Note that all screenshots including tokens in this documentation are fictional.
Account Usage
All ProcFu plans have limits based on the plan level. These limits internally correspond to calls per hour and calls per month. You will receive an email alert when your account usage reaches 80% of it's allotment and again when a limit is reached. This should give you ample time to increase your plan level if required.
You can downgrade your plan again at any time, provided the usage at that moment in time will fit into the selected plan. This is to prevent your account from stopping completely due to exceeded limits when switching. So if you you increased your account for a temporary spike in usage, you may need to wait until the 1st of the following month to downgrade again.